Think of a time you called a customer care desk. Before an agent picked up, you may have heard a message saying, "This call may be monitored and recorded for quality assurance."
You probably moved past this message without thinking much about it or slightly concerned about privacy invasion.
But how does monitoring calls between customers and customer care representatives enhance the experience?
In this post, we explore the question of call quality and how call monitoring techniques help improve it. Read on to learn more.
What Is Call Quality?
Call quality is the efficiency of conversations between customers and customer care representatives or agents.
Generally, the calls that agents make enhance customer lifetime value because it reduces friction the customer feels when done correctly.
That means when speaking with customers, agents should strive to impress them, solve their problems, and know how to prevent the same problem.
However, you can only achieve this outcome if you improve call quality. Since every agent has different skill sets, you can only identify issues that need to be solved by monitoring call quality.
Why Monitor Call Quality?
Quality monitoring allows businesses to obtain and assess information collected from customer interactions.
Any interactions your business can record, such as call recordings, customer satisfaction surveys, or social media interactions, can be used for quality monitoring.
These interactions provide insights that enable organizations to know what their customers think. But must you go above and beyond to examine that data?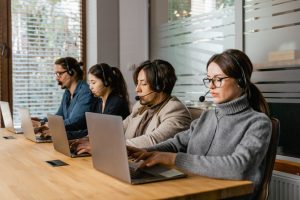 The short answer is yes. A report by Forbes shows that 96% of customers leave when they receive poor service.
Even those that can endure a few substandard interactions will not stick around and keep buying if service is constantly poor.
Quality monitoring helps point out improvement areas in your business, such as customer response, first call resolution rates, and order processing.
Once you identify a gap, you can enforce policies and procedures that help deliver a consistent, high-quality customer experience.
Benefits of Call Quality Monitoring
Businesses derive three main benefits from conducting effective call quality monitoring:
1. Identifying problems
Like any other person, agents have strengths and weaknesses in handling calls. Some are great at calming frustrated customers, while others excel at creating new customer relations.
On the contrary, other agents may struggle with the same. Effective call quality monitoring enables you to identify problem areas and provide tailored training to foster overall improvement.
Monitoring also helps notice agents who perform best and reward them accordingly.
2. Improving feedback
Quality monitoring is a continuous process. Training sessions are necessary to deliver actionable feedback that employees need to improve call outcomes and customer satisfaction.
Call quality monitoring offers details you would not otherwise get from employee interactions. They may forget details or even choose to overlook specific information.
With call recordings and quantitative data on handling times and overall customer satisfaction, you can provide targeted feedback to team members.
3. Setting specific goals
Goal-setting enables agents to attain measurable success. Call monitoring fosters this by pinpointing improvement areas and offering a path for achieving these goals.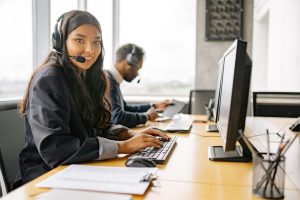 Think of a goal to reduce average handle time. By reviewing call recordings, you and your agents can locate areas where conversational flow needs improvement or questions to ask to enable quicker handling without compromising service.
5 Steps to Effective Call Quality Monitoring Best Practices
So, what can you do to maintain effective call quality in your call center? Here are some steps to get you started:
Step 1: Hire a call quality assurance team
You will want to hire a quality assurance (QA) team to monitor call quality. The team consists of your contact center supervisors, managers, and call center representatives with a thorough understanding of customer service.
The team will rely on insights regarding your business and customer experience to create a quality assurance procedure and establish call quality standards.
Step 2: Set your call quality standards and KPIs
Quality standards and KPIs are guidelines for judging the feat of all customer calls. With standards, you can tell whether you are meeting your goals.
The idea is to organize your service delivery around rules, goals, behaviors, and benchmarks each interaction must meet.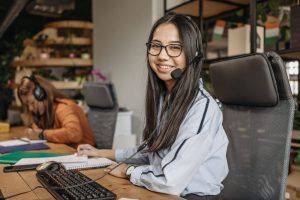 Consider such factors as post-transaction customer behavior, product or service efficiency, and employee engagement in your quality standards.
Step 3: Implement monitoring tools
Numerous quality monitoring tools are fit for contact center quality assurance. Here are some of the tools you can consider for your call quality monitoring program:
QA Self-scorecards – A scorecard is a rubric for texts, calls, social media, and emails. It lists standards and requirements that each conversation with customers must meet to succeed. You can use QA scorecards to determine whether your contact center agents meet your quality standards.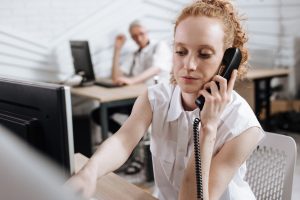 Call recording software – Securely and reliably captures all your calls. It will allow you to search, filter, and playback calls for QA, training, and evaluation purposes.
Text analytics – Helps you to evaluate text and get insights about emotion, sentiment, phrases, and customer issues. Text analytics allow you to analyze critical client information from actual text conversations.
Predictive analytics, call center script, and analytics and reporting software are additional QA tools you can consider using. Each is intended to enhance customer experience and make the business more profitable.
Step 4: Analyze quality monitoring
Here, you will evaluate information gathered from your contact center's calls. Analyze your agents' performance against the set quality standards and KPIs, then make necessary behavior changes.
Keep in mind that your standards must be in line with business priorities. So, consider agent behaviors that might affect your success.
Your QA team can assist in identifying issues or behaviors arising from different agents. If, for instance, you notice an increase in call hold time, you can find out the cause and make necessary changes.
Step 6: Agent training to improve customer experience
Reviewing agent calls will inform you of agent performance drifts and customer satisfaction patterns. With this information, you can spot knowledge gaps in your contact center, allowing you to offer quality training.
Ensure your call quality monitoring program has tools for managing, tracking, and attaining training goals. One of those tools is a call center learning management system (LMS).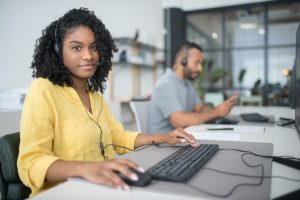 An LMS can simplify providing advanced learning per the unique training needs identified in the QA procedure.
It can benefit you by enabling you to create and deliver courses, coordinate attendance, and automate your training.
Summary
You can effectively establish policies and procedures that enhance customer satisfaction and manage time better with the help of call quality monitoring.
By reviewing calls regularly, you can identify areas where agents need additional training and pinpoint frameworks that don't meet your expectations.
Both can help your company create a call handling method that makes customers feel heard and equips employees with the resources they need to offer exceptional customer service.
At PALO, we strive to ensure all our pay-per-call campaigns drive quality calls within the stipulated laws and regulations. We are experts at generating quality pay-per-call leads that turn into long-term clients for your business.
Contact us today to learn about our pay-per-call offers and how they can help you achieve your business goals.