There is so much information about inbound call centers that it can be quite easy to forget about outbound call centers. But outbound calls and call centers also deserve a spot on the high table because they help many businesses increase sales and scale profitably.
An outbound call center can play a critical role in increasing business revenue and customer satisfaction when used appropriately.
So, what exactly is an outbound call center, and how can you utilize one to achieve your business goals?
Read on to find out everything you need to know about this type of call center and whether it is the right time to add one to your business.
What Is an Outbound Call?
Before we dive deep into our discussion, let us start by defining the basics.
Generally, an outbound call is a business call that originates from a sales or support agent within a company to an existing or prospective customer. Some companies utilize outbound call centers, while others have in-house employees that make the calls.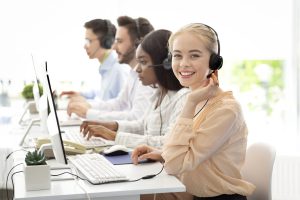 How you handle outbound calls will largely depend on the reason you are making the call. For instance, how you make outbound calls to leads to promote your brand is different from how you make outbound calls to existing customers for research and product promotion purposes.
One thing you must always keep in mind when making outbound calls is that the receiver did not make the call, nor do they expect it. Therefore, you need to make sure that your outbound calls are targeting the right prospects where positive results are anticipated.
What Is an Outbound Call Center?
In simple terms, an outbound call center is a customer/sales operation center that is fully staffed with experienced call agents who make outgoing calls to prospective and existing customers.
In most cases, outbound call center agents work on-site, although others work remotely for business process outsourcers (BPO).
However, most call centers today combine inbound interactions and outbound interactions to maximize business resources.
Keep in mind that outbound interactions encompass much more than voice calls. In today's digital world, other channels such as email and SMS are also considered part of the channel mix that contact centers use to reach out to their customers.
Inbound vs. Outbound Call Centers
An inbound call center mainly handles incoming calls from existing and prospective clients. In an inbound call center, support teams are deployed to keep a close eye on all incoming calls because most are from existing customers with issues or queries.
On the other hand, an outbound call center mainly makes calls to prospective clients to promote their business brand or talk to them about their products. Sometimes, a business may make outbound calls to survey their clients and collect market data.
While most companies run in-house inbound/outbound call centers at their offices, others outsource the function to external call centers.
What Are the Different Types of Outbound Calls?
Although outbound calls can be used to execute different campaigns, most of the calls that your team will make will belong to one of the following categories:
1. Market Research
The primary objective of market research outbound calls is to explore the target audience and get feedback about your products or services. Most companies use this strategy to measure the general public perception of their products.
2. Telemarketing
Telemarketing calls are specifically designed for marketing products and services over the phone. Typically, a call center agent rings an existing or prospective client from the contacts list and promotes the company's products or services.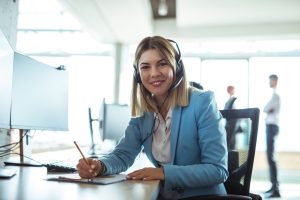 However, before calling, your time must assess the prospect's needs, measure their interest in similar products, create rapport and be prepared to set an appointment should the prospect request it.
3. Cold Calling
Cold calling involves contacting random people who have not heard about or expressed interest in your business. In this case, the call center agent interacts with a person who has no prior knowledge about your company.
Cold calling is perhaps the oldest form of outbound calling. Today, some companies choose to do it through in-person visits where sales agents move from door-to-door promoting company products.
4. Direct Mail Follow Up
Direct mail usually includes postcards, catalogs, sales letters, and brochures sent directly to a client's address. This type of outbound interaction is one of the most effective and profitable ways to reach existing and prospective clients.
Once the mail has been delivered, you can use outbound calls to follow up and see if the client has already received your mail. This also provides you with a perfect chance to make your sales pitch over the phone.
5. Lead Generation
In simple words, lead generation refers to the process of attracting prospective customers' interest in your business. It is an effective strategy that nurtures prospects from being potential customers to buyers of your products or services.
To be successful at lead generation, you must find a way of making leads to a request for more information from your business. The standard way of collecting lead information is through contact forms on landing pages.
Once you have their contact details, you can make an outbound call to speak with them about your business.
How Can You Measure Outbound Call Effectiveness?
Before the advancement of technology, it was pretty difficult to measure the effectiveness of outbound calls. But things have changed, making it possible to measure outbound calls in terms of customer service, productivity, and customer activity.
If you are using a cloud-based phone system, you have access to a dashboard that allows you to see the exact number of outbound calls your call center makes every day. It will also show the average call duration.
If you are running a hybrid call center, you will also have access to the inbound call metrics. Basically, you get everything you want in one location. You can even see the average amount of time that clients wait on line before connecting to a call agent and the exact number of dropped calls.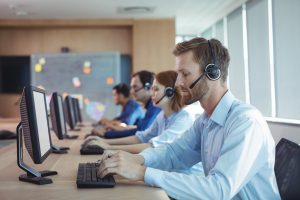 Based on this data, you can assess your progress and productivity based on the average duration of outbound calls and the average number of calls per agent. Simply divide the total number of calls in a given day by the number of call agents that handled the calls on that day.
The result can provide you with a benchmark and clear insight on how to improve your outbound call center operation.
How Can You Make Your Outbound Call Center Successful?
The truth is that marketing campaigns that use outbound calls can be time and resource-intensive. Therefore, you need to find a way to justify your investment and make things happen. The following strategies may help:
1. Scripting to Overcome Annoyance
Most clients consider outbound calls intrusive. This makes them begin the conversation wary or annoyed. Therefore, it is important to leave enough flexibility in agent scripts to personalize calls to counter the initial objection and negativity.
2. Predictive Dialing
Predictive dialing systems are designed to automatically make outbound calls and screen for busy signals, non-answers, voicemails, and disconnected numbers so that call center agents can only contact prospective clients who will pick up the phone.
3. Blended Agents
The truth is that making outbound calls can be quite draining. One way call center managers can keep the morale of call agents high is by assigning the agents both inbound and outbound calls depending on the call volume. Such blended agents have witnessed a relatively high success rate.
Summary
Before you start running an outbound call center in your business, ensure you conduct proper pre-planning to make it successful. Perform a thorough review of your business plan to ensure that it will help you achieve your business goals.
At PALO Media Group, we specialize in generating high-quality calls for businesses looking to scale profitably. Our team of experienced pay-per-call agents understands what it takes to drive calls to your business to boost your revenue.
We have helped many clients in the legal, insurance, finance, and health industries scale their businesses. Talk to us today to find out how we can help you grow your business.