Can you tell if your car is broken by looking at it? While there may be some telltale signs, such as smoke coming from the hood or a deflated tire, a more detailed diagnosis requires an expert—a mechanic with experience and specialized tools.
The same is true for your law firm website. It takes an experienced expert with the right tools to properly diagnose a website's SEO health and uncover hidden issues preventing it from ranking higher in search engine results pages (SERPs).
In our many years of ranking websites for legal clients, we have established that Screaming Frog is one of the most effective tools for the task.
It is an advanced website crawler that can crawl up to 500 URLs for free, uncovering a wide range of issues that limit your website's visibility and SERP rankings.
This post focuses on how Screaming Frog boosts law firm website rankings. We'll look at the features and benefits of the software, plus a few tips that will help you maximize its use for your SEO efforts.
What Is Screaming Frog?
Screaming Frog is an advanced web crawler tool designed to crawl websites and report on their structure, content, and performance. It can be used on any website, from the smallest to the largest eCommerce websites.
The software is easy to use, even for those without technical expertise. It covers a wide array of SEO issues that can impact rankings, including but not limited to broken links, duplicate page titles and descriptions, missing meta tags, and pages with thin content. It can also unearth duplicate content issues and 404 errors.
The tool is compatible with other popular SEO tools, such as Google Analytics and Search Console. This allows for quick analysis of website issues and provides valuable insight into what needs to be done to improve your website visibility in SERPs.
How Do You Use Screaming Frog for Your Law Firm Site
Now that you know what Screaming Frog is and what it can accomplish, you may be wondering how to use it as part of your law firm's ranking strategy. Here are a few tips to get you started:
Everything Starts with Crawling
Screaming Frog crawls each page on your law firm site. All you have to do is enter your site URL, and the tool will get to work gathering data.
The crawl data will reveal a wide range of issues you need to address to improve your ranking position.
Do you have to crawl your entire website at once? Not really. You can configure Screaming Frog to target specific subdomains, folders, or pages. You are always in control of everything.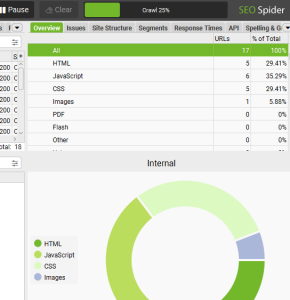 Screaming Frog allows you to pause mid-crawl and resume later. You don't have to start again later. It also has a feature that allows you to save critical data for later use.
But why does crawling matter in SEO? From a technical point of view, it is good to crawl your entire website to identify issues that need fixing.
Some problems you might identify include broken links, 404 errors, HTTPS issues, missing metadata, overlarge images, etc.
Screaming Frog: The Five Tabs We Love Most
Using Screaming Frog for SEO audit is relatively easier thanks to a user-friendly interface categorized into different tabs. Some of the tabs we love the most include:
#1 Internal Tab
The primary function of the internal tab is to provide an extensive overview of your web pages in a spreadsheet format.
The first column of the spreadsheet shows the page's unique URL, with subsequent columns revealing H1 and H2 titles, word count, meta description, and other valuable data. This is the best place to start if you are new to Screaming Frog.
#2 Protocol Tab
The protocol tab shows data about the protocol and server status of each page crawled. It is helpful in identifying pages with outdated codes, such as HTTP 1.0 codes which need to be updated.
This is important in determining how secure your law firm website is to prevent hackers from gaining access to your site.
Screaming Frog will tell you which pages are not protected so you can act promptly and secure them.
#3 External Tab
The external tab is one of my favorites because it furnishes you with a comprehensive list of all outbound URLs on your site. They include external links to social channels in your website's footer and links in your blog posts.
Careful analysis of these links can reveal whether you follow good SEO practices. You can also catch suspicious links that may be a sign of a hacked site.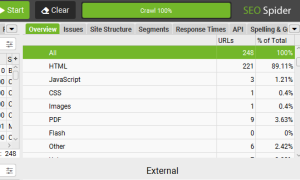 The external tab is even more helpful if your site allows external comments because unscrupulous users may have spammed these comments with outbound links.
Screaming Frog allows you to easily unfollow or remove unwanted outbound links to boost your website's overall health score and page ranking.
#4 Response Codes Tab
The response code tab reveals any pages with errors that prevent them from being indexed by search engines. It can help you identify and address 404 pages and other errors.
#5 Page Titles Tab
The page titles tab highlights all pages with missing titles or titles with too many or too few characters. This is important because the number of characters in your titles affects your site's overall SEO score.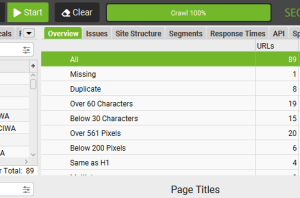 Screaming Frog will help you know how many titles you have per page, the average number of characters per title, and whether any titles are duplicated.
Using this data, you can embark on a series of changes to make your titles more SEO friendly.
Is Screaming Frog SEO Right for Your Law Firm?
There is no doubt that Screaming Frog is one of the most helpful SEO tools out there. It helps you spot and fix critical issues that can easily harm your SEO efforts.
Achieving higher rankings for your web pages and blog posts is easier when you have a visual layout of all the data points.
Screaming Frog does this intuitively and comprehensively, making it easier for website owners to quickly identify and address SEO issues.
If your law firm is serious about ranking higher on search engine results pages (SERPs), then Screaming Frog must be part of your SEO strategy.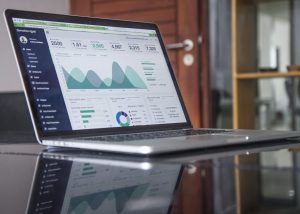 It will save you time and money and help you make informed decisions to improve your SEO score.
You can download the Screaming Frog software for free and enjoy up to 500 URLs of crawling without any limitations. This is an excellent way to get a feel for how it works before upgrading to the full version.
The tool is fully compatible with Windows, Ubuntu, and MacOS operating systems. So, you don't have to worry if your law firm uses any of these operating systems.
What Are the Best Alternatives to Screaming Frog?
While Screaming Frog is an excellent tool, it may not be the best option for everyone. Some alternative tools you can explore include:
Deepcrawl – a cloud-based SEO crawler suitable for small to medium businesses. It helps you identify and address technical issues, monitor your website health over time, audit content, and analyze competitors' pages.
Semrush: This tool is ideal for larger businesses. It allows you to track your ranking performance over time, audit website content for errors, and compare it with competitors' pages.
A1 Website Analyzer: This desktop tool is suitable for individuals and smaller businesses. It helps you identify website problems such as broken links, slow web pages, duplicate content, etc.
These alternatives may not have the same features as Screaming Frog, but they are still instrumental in optimizing your law firm site for higher rankings.
Final Thoughts
Screaming Frog is an amazing tool for law firm website ranking. Its wide range of features can unearth essential issues hindering your site's visibility and rankings in SERPs.
The best thing about Screaming Frog is that it works seamlessly across multiple operating systems, so you don't have to worry about compatibility issues. You can also try it out for free before upgrading to the full version.
The alternatives we explored here may not be as comprehensive as Screaming Frog, but they are still very useful in website optimization.
At PALO, we focus on using modern technology to generate high-quality pay-per-call leads for lawyers and law firms.
So, if you don't have time to use Screaming Frog to improve your site ranking but still need a continuous flow of case leads, contact us and let us discuss your needs.