In a perfect world, no one would be put on hold when they call your business. Every customer would be connected to an agent as the phone starts ringing.
Unfortunately, we are not living in a perfect world and achieving such progress is a great challenge due to staff shortages and high call volumes.
But it doesn't mean that your callers must be bored when put in a call queue waiting for their turn to speak to an agent.
You can make the wait time more productive by customizing on-hold messages into something that your callers love to hear. After all it is your responsibility to keep them engaged while waiting.
Today, we share ten examples of IVR messages that can keep your callers engaged while in queue.
These messages are designed to keep your caller hooked reducing the call abandonment rate for your contact center.  Let us dive in together.
1. A Callback Option
Example: "Our average wait time is 15 minutes. If you would like to wait, that's okay. If not, press 1, and we will call you back when you reach the front of the queue."
Offer customers a callback option once they enter the call queue. A callback option allows them to continue their routines while still on the line.
An agent can then contact the customer once they reach the front of the queue.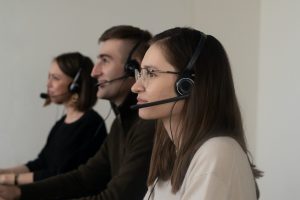 Include an approximate wait time in your callback offer. With this, a customer can make an informed decision on whether to wait in line or not.
Offering a callback option can help reduce frustration among callers. However, you need to keep in mind that offering a callback option doesn't reduce wait times, especially for contact centers with high call volumes.
But still, it can improve  customer experience for many and works well when demand is high.
2. A Signposting Message
Example: "If you have an order number relating to your problem, please have it ready."
Your IVR message should request that customers have a relevant contract, policy, or serial number ready.
Otherwise called "signposting," this strategy informs customers what details they need before the conversation starts. It also inspires customers to contribute to the efficiency of their call resolution.
Borrow this idea of tweaking messages for different call queues across the IVR system. Such personalization improves customer experience and lowers their frustration with IVR.
A scenario where a caller reaches a technical support queue because their internet is down is a good example of how a signposting message can prevent customer frustration.
A message informing this customer to report the issue online can provoke an aggressive response. That means you should remove this message from this specific queue.
3. A Preemptive Message
Example: "Don't be cold this winter: Test your boiler now to ensure you have a warm festive season."
You may realize that you struggle with peaks in call flows at specific times of the year. Exploit slower periods to sneak up on these contacts with preemptive IVR messages if you do.
A utility provider that receives many boiler breakdown inquiries during winter recorded the above preemptive message for its IVR.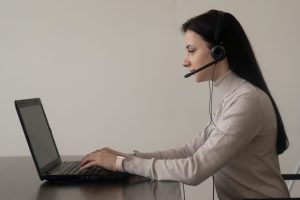 It broadcast the message in August and September to convince customers to test their boilers when it was less busy.
Such messages keep customers busy while troubleshooting a potential problem. They can then inform the agent of any problems and their initial inquiry.
The contact center can resolve both issues simultaneously, lowering future demand.
4. A Call to Action
Example: "We offer discounts on (enter product), which is great for X. Talk to our sales representatives for more info.
Using sales messages in the IVR can be risky. They often make the impression that your business is "good at this" or "excellent at that."
But this is not what customers want to hear, especially if they have had a negative experience.
A good IVR message should either inform or entertain the customer. The example above demonstrates the former. It informs customers of a special discount and a call to action that encourages them to learn more.
This approach can boost business outcomes as well. But avoid shoving promotional messages down the customer's throat, especially in customer complaint queues.
This further shows how important it is to tailor call queues so the user experience matches the call rationale. Doing this can increase customer satisfaction and decrease abandonment rates.
5. A Deflection Message
Example: "You can now track your delivery online. Visit (website URL) with the delivery order number in your email."
Deflection messages to web solutions can be tough. Take the example above. Customers would react negatively to a deflection message in such an instance.
After all, most delivery interactions result from customers failing to track their deliveries online.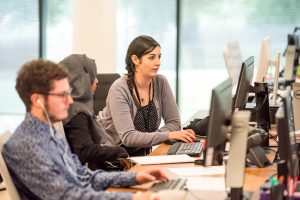 Some people will undoubtedly be unaware that this is possible and will gladly visit the website instead.
But today, most people check online for digital clarification first, which is why a deflection message could be annoying.
Still, our example above is better than most. It directs the customer to the information they can rely on for a successful self-service experience. Many of them try again and improve their chances of success.
6. An Acknowledgment Statement
Example: "If you are contacting us, we understand you are not having a great day. Our agents are getting ready to help you."
In some industries, no one calls unless they encounter a problem. Take an auto repair shop, for example. Callers probably enter the queue when in a poor emotional state.
Acknowledging the customer implies that you understand their worries. It helps justify their emotions and shows that you are all on the same side.
An on-hold acknowledgment message in queues with frustrated or erratic customers can reassure customers that they are not abandoned.
Coaching agents on empathy can help keep the customers calm and validate the message.
7. A Multichannel Update
Example: "We recently opened a live chat service where you can interact directly with our reps online. Visit (Web URL) to try out our new service."
You can notify customers of a new alternative service as part of your contact center's channel-shift strategy. After all, many customers today go for digital-first service.
But the example message above can be made better. With an omnichannel system, smartphone users can switch to a live chat at the press of their keypad.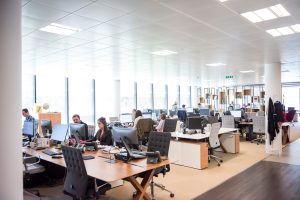 This can largely reduce customer effort. Remember, you must delete this message from the IVR every one or two months, specifically if it contains the term "recently," because it is no longer an update but rather an "old hat."
Also, note that customers could use another app on their smartphone to contact you throughout the conversation to find the fastest solution.
8. A Feedback Request
Example: "Would you like to share your feedback with us at the end of the call? If yes, press 1."
Contact centers usually gather post-call feedback. Contact centers keep customers engaged as they wait with an on-hold message asking them if they want to share post-interaction feedback.
A message like this can also reduce average handle time because agents no longer have to ask callers for feedback. Instead, they can track feedback and return the customer to the IVR after the call ends. The customers can rate the call from there.
Contact centers can use this process to ensure agents are not presenting surveys of customers who enjoyed the conversation. The feedback can present a more accurate image of contact center performance.
9. A Fun Fact
Example: "Did you know our Botox injections help reduce excessive sweating? Speak with our service reps to learn more."
Fun facts about a company, its products, or its services can interest customers and add value to their wait time. Informative uses of company products are good examples.
The example Botox message is similar to one used by a US clinic, effectively drawing attention to alternative product uses. By doing this, they improved the business outcomes.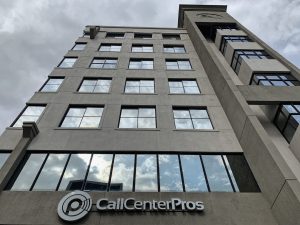 However, be careful not to overuse the phrase "Did you know?"
While using a personal pronoun and questions draw attention, it is often overused, which can irritate callers waiting in a long queue.
So, even if using it once or twice is fine, mix it with other messages.
10. A Company Voice Note
Example: "We have been in operation since 1992. Ever since …"
Many businesses welcome customers with lengthy IVR messages that include an overview of the business. Unfortunately, callers want to navigate the IVR menu options fast.
Contact centers should strive to achieve a balance. Try to break up the introduction and repackage the information as on-hold messages.
Doing this can help reduce IVR navigation time. The information also becomes easier to understand, which is crucial because a caller's attention span is short.
Callers have a short attention span, so doing this makes the experience easier to digest.
Final Thoughts
On-hold messages can be an effective way of keeping customers engaged and informed as they wait for assistance.
But you cannot continue using the same default settings and on-hold messages from 10 years ago. It is time to review and update your contact center's IVR messaging for better operations.
At PALO, we understand the importance of having a functional IVR system in optimizing pay-per-call campaigns. We are experts at generating quality inbound calls that can help you scale profitably.
Contact us today to learn more about our pay-per-call campaigns and the industries we specialize in.